National Arts Policy Roundtable Sundance- Arts and Healing: Body, Mind, and Community
01 October 2013
Last Updated on 01 October 2013
Earlier this year I was invited by Robert Redford, founder of Sundance Institute and Robert L. Lynch, President and CEO of the Americans for Arts to join the 8th annual convening of the Americans for the Arts National Arts Policy Roundtable that took place on September 19-21, 2013 in partnership with the Sundance Institute and located in the beautiful Wasatch Mountains of Utah.
This year's topic for the 2013 Americans for the Arts National Arts Policy Roundtable, Arts and Healing: Body, Mind, and Community, examined how the arts play an important role in the rehabilitation of those who have experienced both mental and physical traumas including our nations wounded warriors. Further, the arts are a proven driver in the healing of communities in need and through that process help foster creative placemaking in communities throughout the world. Through presentations and discussions we discussed best practices, heard from those engaged in the work, and brainstormed how to best further the role of the arts as a rejuvantive tool for our nation, and the world.
As a representative of Music Therapy and TIRR Memorial Hermann, I spoke on a panel during the convening that focused on healing the mind and the body through the arts.
The National Arts Policy Roundtable is the leading arts policy convening in the United States. Since 2006, more than 200 high-level decision makers and thought leaders have gathered to recommend policies and strategies critical to the arts and advancing American society. Participants included corporate CEOs, foundation presidents, philanthropists, government leaders, military heads, artists, and academics. In addition to spirited discussion and debate, the convening has also produced significant and measurable policy achievements at the national, state, and local community levels.
As a member of the 2013 Roundtable, I was able to give my clinical perspective among an influential group of 30 public- and private-sector peers. Being a part of this dialogue will hopefully result in cross-sector policy recommendations—solutions that will ultimately serve as a policy road map for community leaders across the country—helping others move from knowledge to action. The work during the Roundtable is the first step in an ongoing process of engagement in issues critical to the arts and society.
Mainly, I was I honored to be invited to such an event. I met some of the greats that weekend including: Robert Redford, Ben Folds, and our acting Surgeon General. I was able to advocate for Neurological Music Therapy and continue to spread the importance of our techniques being part of evidence based practice. My hope is that there will be more opportunities for research in music therapy and more musicians interested in the field.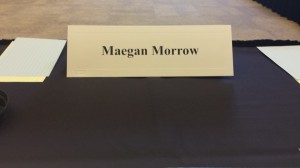 Panelist