26 November 2014
Last Updated on 26 November 2014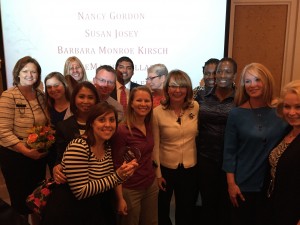 As I reflect on life and give thanks for all that I have during this season, I want to bring attention to something that happend last week.
On Thursday, Novemeber 20, 2014 TIRR Memorial Hermann had the privilage of recieving the Caring Heart Award form the Institute for Spirituality and Health.
Several members of our medical team were recognized for the rehabilitation of Gabby Giffords.
I was honored to represent my team that day and be recognized for such an award.
I was ammazed at the progress shown by our former patient Gabby as she was invited to give a speech and discuss some of her new goals and advocacy efforts with her husband Mark Kelley.
What I said that day to Gabby and Mark was something that I have been wanting to express for a long time.
I explained how her healing process brought attention and awareness to the world of Traumatic Brain Injury.
Also, that helping her regain her voice, in return gave me a voice. I expressed how important it is that the world got a glimpse into the miracale and power of music and the arts being used in the medical setting. I am thankful to Gabby and Mark for allowing their process of healing to even be out there for the world to see.
On a daily basis Musicians and Music Therapists contact me from all over the world and explain how they were inspired to join the field of Music Therapy after seeing how music helped in Gabby's healing process. Her story helped put the Arts and Music back on the map.
I am thankful that I got to be a part of her and her family's lives.
It is truly an honor to receive such acknowledgement and to help book-end this experience.
Happy Thanksgiving everyone!